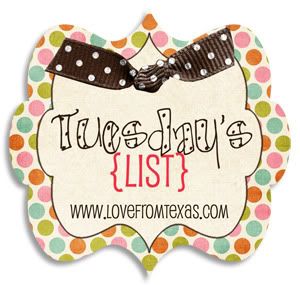 Oh, yay!! It is fall and I am loving it. It's really a toss up between fall and spring as to which season is my favorite. It is also Tuesday which means it's time for another installment oooof dunt-dunt-dunt-da Tuesday's List created by the lovely
Jessica at LoveFromTexas.com.
She is completely adorable and you really should check out her blog if you haven't already. Check out her recipes... yum!
Anyhoo, I'm supposed to be tell you some of my favorite fall fashion and accessories. That is the theme behind this week's Tuesday List. So, here goes:
1) boots!- I love to wear my boots. Back a few years ago I got these totally adorable brown cowboy boots. Yes, I said cowboy boots. Or cowgirl boots. hehe! They have a beautiful turquoise inlay and I would post a pic of them, but I need to clean them. The best part is that they have a nice heel. About 3 1/2 inches and are so easy to walk in. I think I wore them almost everyday two years ago! These are not it, but they came from the same store and I thought these were kinda cute.
2) scarves- This is something that I have just gotten into. I bought one scarf last year or so to keep my ears warm and decided it wasn't that bad. Now, between my daughter and I, we have a few more and love our scarves!
4)hats- No, not hats for myself, but hats for my kids. I love hats on my babies. Especially my bald baby girl!
Jessica's
blog and link up for Tuesday's List. It's really fun!