Happy Friday everyone! So we're smack in the middle of the holiday season and I've got the Christmas spirit! Now hang on, cause we're squeezing a few things into this one.

Last night I dedided to do a little something that I'm now thinking of making a yearly tradition in our family. As I mentioned in
this post
, we don't get to spend the holidays in our own home. This year for Thanksgiving my husband's company gave out 18 pound turkeys and we were going out of town. Come Christmas, we probably will again. That being said, what the heck am I gonna do with an 18 pound turkey!? So yesterday morning I got up and started cooking that big ol' bird. Now mind you, I've never cooked a turkey in my life unless it was ground turkey. Within an hour of sticking her in the oven, I could smell that smell. You know the smell. It was Thanksgiving all over again. Later on I cooked up some green bean casserole, mashed potatoes, macaroni and cheese, sweet potatoes and some of the best rolls I think I've ever tasted. I'm tellin' ya. I was in heaven! So we had a wonderful feast that we called Thanksmas. (
Get it? We're right in-between Thanksgiving and Christmas so. I. just... never mind
.)
Now I think we have a new family tradition we can call our own. Our very own Thanksmas.

And now moving on to today's business at hand. Oh, wait, I don't have any business... this is just pure Friday fun!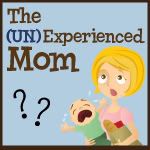 First we have Tamara's Fill in the Blank Friday (
or blanks as it is today
). All ya gotta do is answer the question below on your own blog and then go back to
The (Un)Experienced Mom
and link up in the MckLinky to share with everyone else. Snag the button code and add it to your post as well. Don't have a blog? Then head on over and leave your answer in her comment section. I mean, who doesn't like comments anyway!? So, the question for this week:
The children's show I can't stand is_____________.

But the show I secretly like is _________________.

As a stay at home mom I have to watch these kiddie shows on occasion. Actually, Kaitlan doesn't really seem too interested in them yet. Believe me, I do try to stick her in front of the boob-tube during those times when Mommy just needs to get something done, but she can't sit still to save her life. When I do have them on though, I simply cannot stand that Yo Gabba Gabba!! I don't know why. Maybe I just never have given it a fair chance. As for the one I
love
can tolerate, I would have to say it's sort of a tie between WonderPets and Backyardigans. Both of those are just so cute!
Now without further adieu, on to another fun little blog carnival from Mama M. If you haven't guessed from the picture below, it's called Five Question Friday.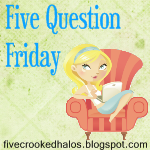 So, let's play. Same basic rules apply if you'd like to play along. Post your own blog answering the questions, give credit to Mama M. and head on over to My Little Life to link 'er up to Mr. MckLinky. I'm gonna take the lazy easy way out and answer the questions right along with the questions. Anyhoo! Here we go:
1. Does Santa wrap the presents he leaves at your house?
Some of them, but not all. He (she) likes to keep a few unopened for the kids to see as soon as they walk around the corner. That usually ends up being something like the Star Wars lightsaber he got Raiden last year or other odd shaped items that are difficult to wrap.



2. When is your "big" Christmas celebration...Christmas Eve or Christmas Day? Tell us about it...
It is a little different for us. It really kind of depends on what day Christmas falls. As I have said before in this post, we don't spend much if any of the holiday at our own home. We usually try to at least have a little bit of time on Christmas morning at home so the kids can open their gifts. I'm seriously thinking about knocking all of this travel mess out, though. Anyway, we do have a Christmas Eve thing we do at my dad's that I love. That's always a big deal and I just love getting to see my step-brother, his wife and step-sister as well as my nieces. That's one of the few times of the whole year we get to see them. We also have a Christmas thing at my mom's whenever it is that we get up there to C-town. We very seldom go down to Houston, though where my FIL lives. First, I don't care much for Houston. Second, we don't care much for the FIL's wife! (I'm always super nice, though!)

3.
Are you big on keeping tradition every year?


I really wish I were. You don't know how badly I yearn for tradition. It's hard though when you were the product of a marriage that ended in divorce and traditions were hard to keep up. I also have a husband who doesn't seem to be to interested in keeping any traditions going. I guess I'm just gonna hafta get it done myself from now on if I want to have any traditions upheld.

4.
Do colored lights or white lights tickle your fancy?
It depends. (I know, I know... depends is what old people wear. Just hear me out.) First, it depends on the tree decorations. Usually I just let the kids put on whatever hodge-podge deco we have collected over the years all over the tree. In that case, I've always allowed colored lights. Last year I found these uber cute boxes of decoration at Ikea, though. They were on sale for like $2 or $3 for a box of 28 ornaments. I think I'm finally gonna have a color coordinated tree! If the kids allow it. If I get my way and get to use my adorable blue, silver and white ornaments, I'll use white lights. You see, I can actually change them at anytime during the season, though. We got smart and bought a pre-lit tree a couple years back. It's definitely better than the headache of wrapping the tree in strings of lights!

5.
Do you decorate outside your house for Christmas?
Once again, I wish. We did at one time but the hubby just works too much now. Maybe that's another thing I need to take of for myself.
Now, that wasn't so bad, was it? Maybe even a little fun? If you'd like to play either one of these carnivals, just click on the buttons, head over to Tamara and Mama M's blogs to get started. Everyone have a fantabulous weekend!!