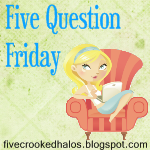 You know what that button means, don't you? Yes, people. It's time for another round of Five Question Friday hosted by
Mama M
. I really like the questions this week and look forward to reading what everyone else says. So here goes:
Questions for Friday, December 4th: (Special thanks to the following for their question suggestions this week!! Liz, Rhonda, Heidi, and Kimberly! If you have an awesome question suggestion, check out the thread in my community!)



1.

Favorite gift you are GIVING this year?
Well, this year is going to be especially tight as far as money goes. I have tried many times to talk the DH into doing things that would be more wallet-friendly (i.e. ornaments or cookie mixes in a jar) but he always so no. That it's goofy. I am sticking to my guns this year, though and I'm gonna jar up some homemade hot cocoa. Is that too cheesy?
2. How many parties are you attending between now and Christmas?
We've attended one so far and will another next week. I think that'll be it for this year, though.
3. What is your favorite Christmas song?
Oh, I love all kinds of Christmas songs. As far as a favorite, I just don't think I can pick. I really like the kiddie ones because they are fun to sing with the rugrats kids.



4.

Who was your favorite elementary school teacher and why?
I think my favorite teacher would be Mrs. Haseloff in 5th grade. She was always so nice and ended up being one of my little sisters 5th grade teacher two years later. She was just as awesome then. I could go into a least favorite as well (that mean 1st grade teacher that made me vacuum the floor) but I will restrain.
5.
If you had a choice to live in any other period of time (other than now) what era would you choose and why?
Hmmm... there are so many answers to this one. I can think of a ton of different eras I would like to live in. Okay, maybe not a ton, but a few. I think the 1950s takes the cake, though. It sounds like it was such a feel-good time. The war was over and people were busy making babies, watching television and eating t.v. dinners. I would have hung out at the malt shop with Nancy and Donna while making googley eyes at Dennis or Biff and sipping on ice cream sodas. (You like my 1950's names?!) Dressing in poodle skirts and saddle shoes... that musta been the life

!
You wanna participate? Then get movin' over to My Little Life, grab the button (gotta follow the rules!) and get to answering those questions. Have fun!