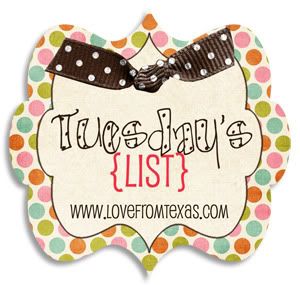 I absolutely love love
love
Halloween. I think it has to be my favorite holiday besides Christmas. And the only real reason Christmas is my fav is because it is our Lord Jesus Christ's birthday & I get to spend a little extra time with my family. Otherwise, it's just too darn cold for me in December... even in Texas. I know, I know, I'm a wiener.
So on to my Tuesday List. A segment that I discovered which is a creation of
this
lovely young lady I ran across in cyber space. Please feel free to join in and share
your
everything Halloweeny!
Fall-- Halloween seems to be the point where it feels like fall is really here. Living in Texas, we may still have 80 degree weather this time of year. Once Halloween hits, it just feels cooler outside. If you have experienced the Texas heat, you know what I mean!
The Costumes-- I love to watch my babies dress up and have a good time. This year I have convinced the kids to be more creative and create costumes themselves rather than slipping into a store-bought one. It is going to be so much fun.
Candy!!-- You notice this part has the exclamation. I have been trying to be good, but the holiday season, beginning with Halloween, is just so darn tempting with all of the goodies. Of course, Dad and I have to check out the bags to see what's in there for "safety reasons" and then we dump all of them into a big red bowl for the whole family to share. That way we don't have the confusion of who's bag belongs to who. I try to sneak as much of the chocolate bits I can without adding too much to the waistline.
My Daddy-- Yes, my Daddy. It's been a tradition now for the past 11 years that we've lived in the DFW to go to Poppy's house for Halloween. Although he only lives about an hour away on the other side of the Metroplex, I don't get to see him very often. He travels all over the country (and a few other countries) for work and is very busy once he does get home trying to catch up on things around the house. We've only missed one year due to a Cub Scout gathering, but I really like our family tradition.
Haunted Houses-- So long as we don't ever ever EVER go back to the one that had the bubble room/hallway/whatever the heck it was, I love to be scared. I am a little closterphobic and that was so not cool of them. I thought I was going to die! Imagine being in a dark area filled with bubbles from top to bottom with a bunch of strangers and everyone wants to get out of there but no one really knows which way is out or how much longer till the end. Never again! But I love them besides that one. Even the funky smoke-filled room where the guy chased me with the chainsaw. I should have kicked that jerk!
Scary Movies-- On a similar note, I love scary movies! Give me a bucket of popcorn, a soda and some Mike Meyers... from the Halloween movies, not that I don't love Austin Powers, but we're talking scary movies here. In the same sense, I love when the 13th falls on a Friday. Bring.it.on.
So there is my very first Tuesday list. I can't wait to read other's lists and see what you love about Hallowen as well.