So today is Friday which means it's time for Mama M's Five Question Friday. Love it, love it, love it! Alright Mama M, take it away!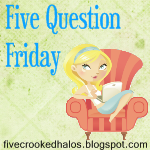 *oh yeah! just click on this button or just below to head over to My Little Life and link up your own answers and see how others answered these 5 questions.
Rules: Copy and paste the following questions to your blog post, answer them, then
c'mon
back and link up! If you'd like, grab the code for the blog hop...but you don't have to!! I'd also
loooovvvveeee
it if you'd link back to me,
Mama M.
, so people know where to go for the next go around!
If you don't have a blog, but want to join in the fun...feel free to post your answers in the comments of any of the blogs along the way!
It's a fun, easy post and it's all about YOU!
Questions for Friday, March 5
th
: (Thanks to
Courtney
,
Erin
,
Renee
,
Thorney
London
, and
Sandy
for their question suggestions! Wanna be linked in a future 5
QF
? Head on over
here
, to my community, and offer up your best questions! Quirky, zany, fun, serious, advice seeking...it all flies!!)
1.
What's your guilty pleasure?
I'll just mention my biggest guilty pleasure... Oreo cookies! I actually blogged about my love for the Oreo here. It's just the best cookie in the whole world and I think God had someone invent them just for me.
2. What is your favorite TV series?
It's kind of funny that I'm home almost 24/7 now and probably watch less t.v. than when I worked full time and only had 2 kids. The one show I canNOT miss, though is Lost. I am so sad that this is the last season, but since it is, I'm soaking up every.single.drop!
3. Can you speak any foreign languages?
I speak a little of the Espanol, but that's practically required when you live in Texas. Well, it should be required anyway. I also speak a little Francais as well. (Spanish and French are actually very much alike!) I took French about 100 years ago my freshman year but moved back to Mom's after that and they only offer Spanish there so I missed out on learning to curse in French. Yep, the teacher said that if we made it to 4th year French, she would teach us the curse words. Talk about motivation for a 14 year old!
4. How many pairs of shoes do you own?
I'm really not a big shoe fanatic, but I probably own about 15-20 pair. I have a bunch of heels that I hardly wear and I also have a problem with throwing away my old sneakers. I guess I think I'm going to want to wear them again someday or use them to work in the yard.
You can stop laughing now.... One day I will get my garden going! (hopefully this spring)
5. What's your favorite kind of M&M's...peanut, almond, straight up regular, etc.?
I really love all things M&M, but the peanut butter ones of the bomb-diggity!! They need to make those with dark chocolate!
So there you have it. My answers to Mama M's questions. I'm gonna run now being that my kid is annoying the crud out of me. She likes this little thing called food. Hmph! Who knew?